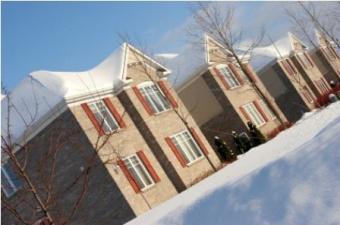 In response to the 2008 Housing Crisis, state and federal governments established agencies to help with interest only mortgages. The right agency to help you depends on whether you are seeking cash to help you with payments, wanting assistance to renegotiate your mortgage or facing foreclosure.
Help with Interest Only Mortgage
An interest only mortgage differs from a traditional mortgage in the amount and types of payments the borrower makes each month. Whereas the monthly payment for a traditional mortgage consists of money for both interest and the principal balance, the monthly payment for an interest only mortgage consists solely of interest. Because the borrower makes no payment towards the loan's principal balance during the interest only period, it remains the same. After the expiration of the period, the mortgage loan may have to be refinanced or renegotiated, depending upon the terms of the loan. If you are searching for help with an interest only mortgage, chances are pretty good that you're either nearing the end of the interest-only period or are struggling to keep up with the higher payments. If you are facing foreclosure due to an increase in your mortgage payments or are anticipating not being able to make your payments, you can seek assistance from federal or state agencies.
Federal Agencies
U.S. Department of Housing and Urban Development (HUD): Provides information about reducing payments, refinancing mortgages and avoiding foreclosure. HUD counselors may also be able to provide information about grants to help with mortgage payments.
NeighborWorks: Counsels homeowners facing foreclosure about their options, such as refinancing or selling, to prevent losing their home. Its non-profit third party counselors are HUD-certified.
National Community Reinvestment Coalition (NCRC): Consisting of more than 800 non-profit housing organizations and operating in more than 17 states, this agency gives money to homeowners unable to make mortgage payments. It also helps homeowners renegotiate or mediate problems with their current lender or refinance their loan.
Neighborhood Assistance Corporation of American (NACA): Its Refinance Program offers new loans to homeowners unable to pay their current mortgages, and its Home Save program gives money and counseling to those facing foreclosure.
Homeownership Preservation Foundation (HOPE): Provides counseling to homeowners facing unmanageable mortgage payments. Counseling services include reviewing the owner's finances, creating a plan to avoid foreclosure and connecting owners with lenders to refinance.
Making Home Affordable (MHA): Offers owners help lowering monthly payments or interest rates, or even gives them as much as $3,000 to help with relocation costs. It also provides financial assistance to unemployed individuals facing foreclosure.
State Agencies
The names of agencies able to that help with mortgage payments differ in each state. Contact your local Housing Department for the name and contact information for the agency in your state. Here are a few examples of some state-specific programs available:
Pennsylvania Housing Finance Agency: Operates an emergency assistance fund which provides money for mortgage payments to owners facing foreclosure.
North Carolina Foreclosure Prevention Fund: Provides homeowners facing foreclosure due to temporary financial hardship or unemployment with money for mortgage payments. It also offers a low-interest loan for up to $24,000 to help residents pay their mortgage.
Seattle Foreclosure Prevention Program: Offers homeowners help with delaying foreclosure so they can sell their homes or in creating repayment plans for overdue mortgage payments. It also assists in refinancing negotiations and connects owners with a low-interest, non-profit lender if they need cash for payments.
Help With Your Interest Only Mortgage
If your mortgage is nearing the end of its interest only period and you are worried about your finances, seek help from state or federal agencies. These agencies can help you renegotiate the terms of your mortgage or provide you with cash to avoid foreclosure.